We can be of assistance with several services related to the SCIP database and registration.
First and foremost, the following must be ascertained:
Is your product subject to the rules on SCIP registration?
To be subject to the rules, the article/good or subcomponent must contain at least 0.1% w/w of a substance on the candidate list and be a good, not a chemical product - here are some other rules we can provide assistance with.
We can examine your good to see whether it contains at least 0.1% of these substances, either by reviewing the information you have yourselves if you are the producers of your own good, or by contacting the supplier of your good.
At the same time, we recommend that as a company, you create and archive documentation to establish whether or not you have an obligation to register in the SCIP database.
If you either produce the good yourself or import the good from a country outside the EU and the good is subject to the rules on SCIP database registration, the good itself or the subcomponent will first have to be added to the ECHA cloud service before the SCIP notification can be prepared and submitted to the SCIP database.
If the good or component is manufactured in the EU, it is likely that the good will already have an SCIP registration, provided the rules have been followed by the company manufacturing it. As such, you should be able to get an SCIP number for the product or component that can applied to the SCIP registration.
If you as a company are subject to SCIP registration, you should start by creating a company account with the ECHA. Doing so will allow us to be associated with your company as a consultant and thus register for you.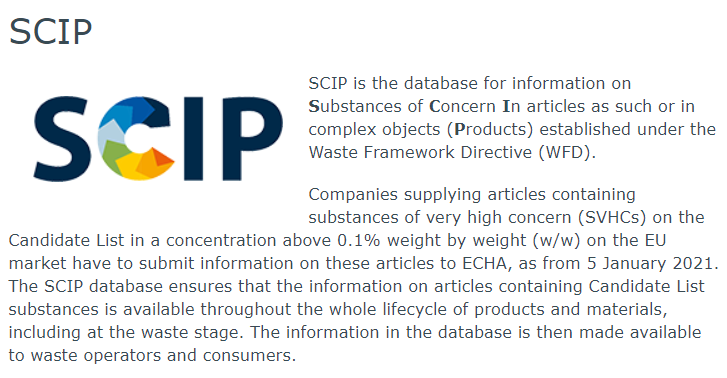 Read all articles regarding SCIP database.
Feel free to contact us for more information.
This email address is being protected from spambots. You need JavaScript enabled to view it.
Skype: european.msds.translations
Tel.: +44 1158 88 1496.
Tags: SCIP registration - SCIP notification - ECHA - REACH - SVHC substances