Information about the SCIP database.
Which goods (articles) have to be registered?
From 5th January 2021, all goods or subcomponents containing chemical substances of high concern as named in the EU's candidate list must be registered in the SCIP database.
The candidate list is a list of chemical substances which are considered to be of particularly high concern for human health or the environment. These are, for example, substances that are endocrine disrupting, carcinogenic, toxic to reproduction or poorly biodegradable. The European Chemicals Agency (ECHA) updates the list with new substances on an ongoing basis.
Even very small quantities in an article/good/packaging or subcomponent may qualify for registration:
The threshold for registration of chemical substances as named in the EU's candidate list is a concentration above 0.1% of weight, i.e. the quantity of the chemical substance of high concern must be assessed in relation to the weight of the subcomponent that contains the chemical substance of high concern.
It's insufficient to merely to look at whether your company itself uses chemical substances from the EU's candidate list. It's highy likely that your company's product contains a great many subcomponents, some of which may be supplied by subcontractors. If only one of these subcomponents contains a substance of high concern with a concentration of more than 0.1% weight, your company must register the entire product and the subcomponent in question in the SCIP database.
Even if the subcomponents of your item are glued or welded together such that they cannot easily be disassembled, they are legally still subarticles. As such, you still have to examine, weigh and potentially register the individual subcomponent of your product. Remember that even the packaging in which your good is delivered is also subject to potential registration in the SCIP database and should thus be examined and potentially registered in the same way as the good itself and its subcomponents.
We're established at ECHA with account, so we can easily act as a consultant for you for the purposes of registration in the SCIP database.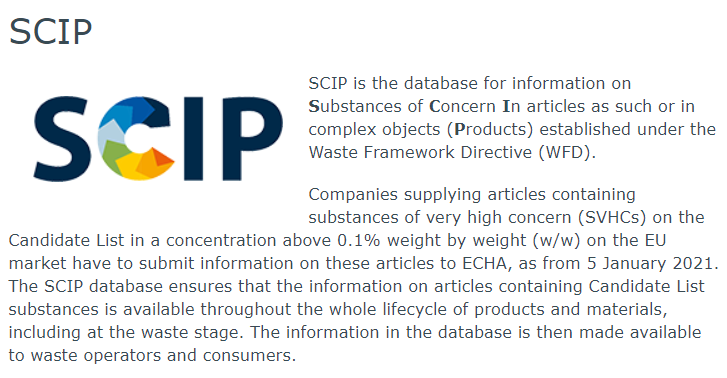 Read all articles regarding SCIP database.
Contact us for more information.
This email address is being protected from spambots. You need JavaScript enabled to view it.
Skype: european.msds.translations
Tel.: +44 1158 88 1496.
Tags: SCIP registration - SCIP notification - ECHA - REACH - SVHC substances