There may be several reasons for the need to update a safety data sheet, such as a new product composition, resulting in more, better or different application options.
At the moment we are updating a lot of safety data sheet, to be used at Amazon.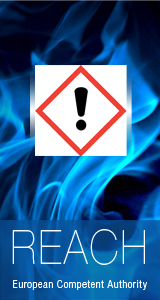 Perhaps some of the ingredients have been re-classified, so that the safety data sheet has new hazard statements applied.
One must also remember that within a relatively short time-span - to be precise, by the middle of 2015 - a large part of the world's products will be needing new hazard symbols, when the CLP hazard labelling system comes into force.
This means that new safety data sheets will have to be produced, as well as directions for use in the workplace, for all these products, which will be a major task.
Maybe some of you have already seen the new symbols and had the chance to compare them with the existing ones, and thus concluded that the hazard symbols do not convert straight across.
We have decided to make it easy and inexpensive for you to have your safety data sheets converted to the new CLP system when that time comes, as well as providing a running update service.
If you have a safety data sheet in need of updating, it will cost you € 199 for each one. The price for a updating a safety data sheet to CLP is the same as the price for producing one from scratch, as exactly the same work goes into it. The exception is where we produced the original safety data sheet, in which case please see below for further information.
If you have your safety data sheets produced by us, you will always be able to get them updated for just € 179 each. That is cheap.
Please note that if only minor alterations are required, you should contact us so that we may agree on a fair price; this also goes for safety data sheets produced elsewhere.
This email address is being protected from spambots. You need JavaScript enabled to view it.
Tel.: +44 1158 88 1496.
Tags.: safety data sheet - update - sds - amazon - updating - CLP 1272/2008